Welcome to CairnPuppies.com!
Welcome cairn puppy fans to our cairn puppies website!!!

This is our cute cairn puppy.He is two years old and his name is Buster. Are you thinking about adopting a cute cairn puppy? If so we have a wide selection of cairn puppies and older dogs from cairn terrier breeders as well as from cairn terrier adoption and cairn rescue. Do you want to buy or adopt a cairn puppy but don't know much about them or do you want to know more about the puppies we are selling? Please take a look at through our site and let us know if we can help. We hope you enjoy our cairn puppies website!
This week's featured Cairn is....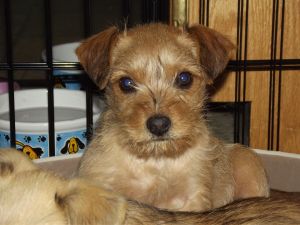 Tori! Tori is a cute beautiful baby female Cairn who needs a home! Help Mustang Sally and Adopt her today! Go to Available dogs to find her adoption info.
AVALAIBLE DOGS!
Come see our available dogs click their links to see more info about them!
Help give love to a Cairn that needs it. Adopt a dog!